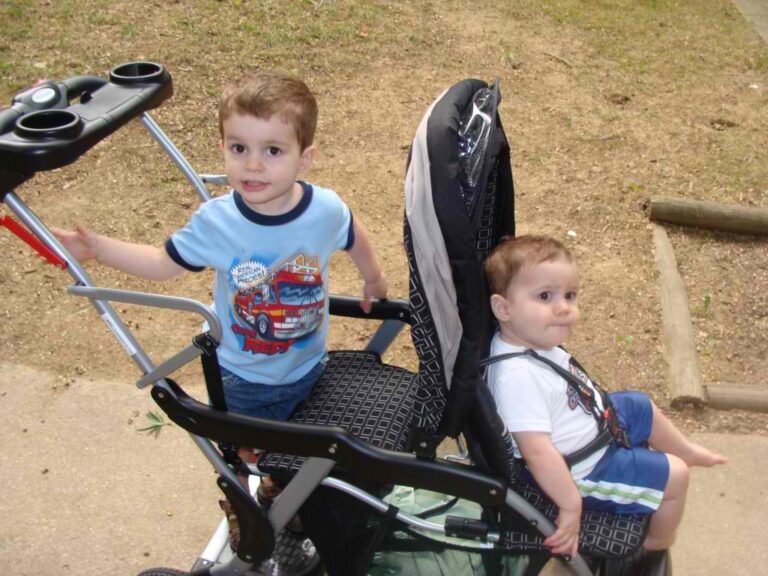 Gone are the days when the younger baby would enjoy a ride on the sidewalk, sitting or reclining in the Stroller while the elder one would be either walking or be carried in the arm of their parents. Thanks to the latest sit and stand strollers, both siblings can be accommodated at the same time with ease. A sit-and-stand stroller looks like a regular stroller. Just that in addition to the stroller seat a rear bench or platform is attached to the Stroller
 If you face such a situation often, where you need to carry your toddler, you can opt for a Sit and Stand Stroller. But choosing the best among a myriad of stroller varieties can be a confusing task. So, we have shortlisted the top 5 sit and stand strollers and listed their specifications and Key features for you. Take a look.
Graco Ready2Grow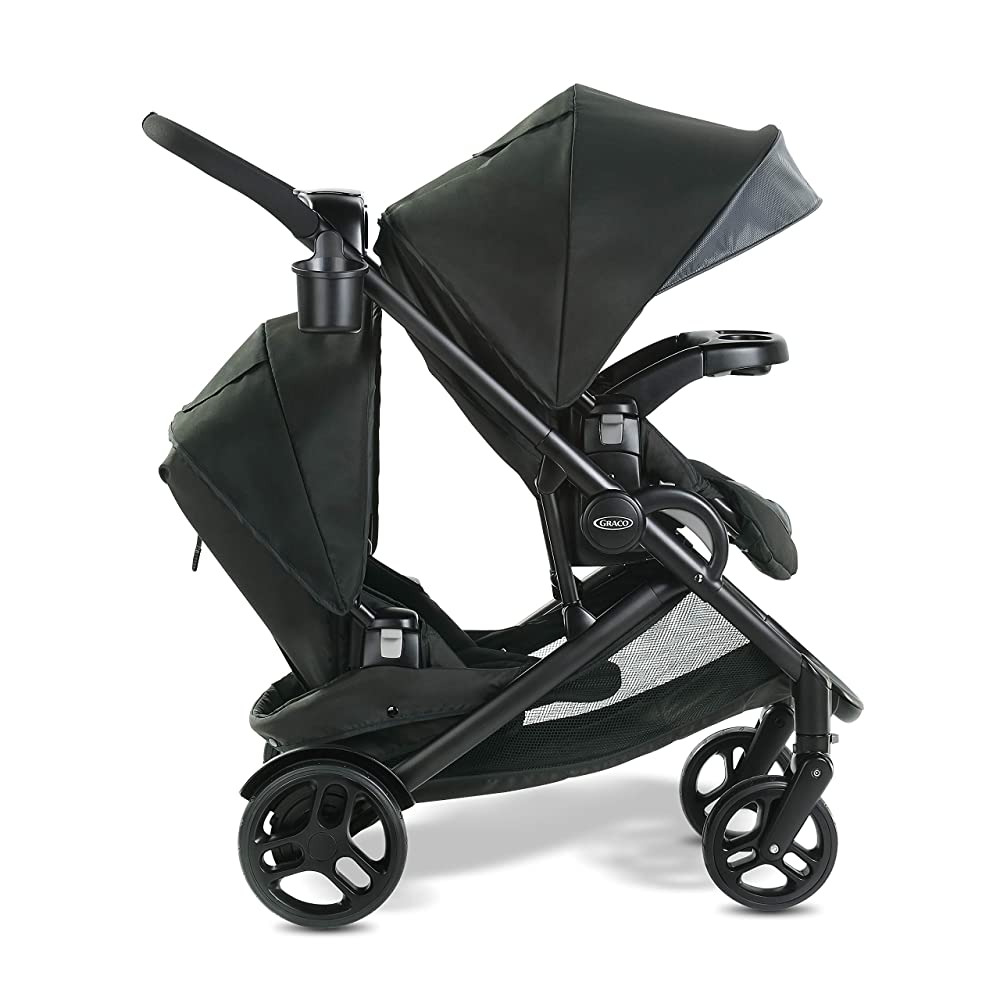 Description
One of the most versatile sit and stand strollers on the market has a face-time rear seat feature that lets parents interact with the kid during the ride.
Key Features
» 2 sun canopies for protecting both children
» Compact size and smooth steering
» One-handed fold
» Large storage basket
» Removable child snack tray
» Compatible with two Graco Classic Connect Infant Car Seats
» Movable toddler seat for easy access to the storage basket
Elite Sit and Stand EX Stroller
Currently unavailable
Description
Similar to other sit-and-stand strollers, the Elite Sit n Stand EX Stroller is also a versatile device meant for both the siblings in your family. One of the unique features of this Stroller is the fabric used in the headrest. It is the mesh fabric that offers more ventilation and makes rides all the more comfortable and enjoyable for the kids.
Key Features
» An extended front canopy
» A rear shade canopy
» The standing platform flips out of the way when not in use
» One-hand folding mechanism
» Jumbo storage basket
» Removable front tray
» 5-point harnesses
» Stroller with rear foot brake
» EVA foam tires
» Jump seat pad included
» Easy to assemble
Baby Trend Sit & Stand Ultra Stroller, Elixer
Description
The Baby Trend Sit N' Stand Ultra stroller accepts infant car seats in both the front and rear seating positions. It weighs around 30 lbs. Various models of Baby Trend strollers are available in the markets and are quite popular too.
Key Features
» Scope for more storage and amenities
» Compact when folded
» Foot activated brake, and 5-point child restraint safety harness
» Large removable shade canopy
» Covered parent tray with 2-cup holders
» Accepts all Baby Trends and most significant brands of infant car seats
» The front seat reclines.
Joovy Caboose Ultralight Stand-On Tandem Stroller
Description
It is one of the lightest, easy to steer tandem strollers on the market today. Weighing just 20 lbs, it is 20% lighter than the original Caboose and even lighter than other double stroller models.
Key Features
» Three reclining positions in the front seat
» Large storage basket with amazing side pockets
» 4-wheel suspension enables the smoothest ride for the older standing kid
» Linked rear brakes offer added security when the Stroller is packed
» Possesses a universal car seat adapter that allows any infant car seat to fit in the front seat
» Over-sized canopy with the sun visor extension provides shade for both children
» Compact folding enables storage in a closet or the car trunk
Baby Trend Sit & Stand LX Stroller, Phantom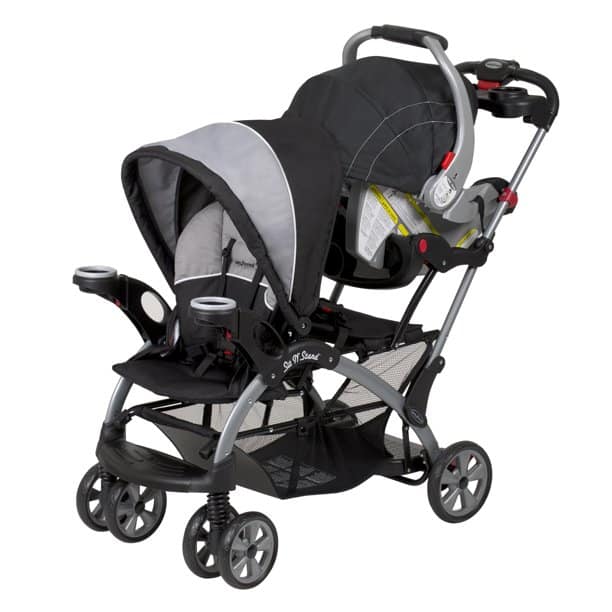 Description
It is a type of stand stroller that has multiple riding positions, allowing children to sit or stand along the ride.
Key Features
» Lightweight, sturdy construction
» Compatible with most car seat brands
» Covered parent organizer with cup holders
» Folds compact for travel or storage
» Large storage basket and 5-point child restraint safety harness
» Foot-activated rear brake
» The older child can stand on the rear platform or can sit in the back seat
Read More About This Topic
Buying A Double Jogging Stroller
Bob Revolution Se Stroller The Best Choice